6 tips for safely cleaning up household hazardous waste after a storm
News from PropertyCasualty360:
Photo: Shutterstock/Richard Whitcombe
Thousands of critically displaced Saipan residents have begun clean-up efforts after Typhoon Soudelor ravaged the island in the Western Pacific ocean. With winds measuring up to 105 mph when the storm hit, the Category 2 typhoon left hundreds of people homeless and most of the island's 53,000 residents to dispose of damaged property. Texas residents were faced with the same dilemma following a spring flooding that was declared a major disaster by President Obama. Flood waters destroyed many homes in San Marcos, requiring residents to clean up debris and other waste products before rebuilding. In addition to spoiled food and damaged furniture, they also may be faced with hazardous chemicals.
Related: 8 tips for cleaning up after a flood
Rebuilding or cleaning up storm-damaged homes or buildings is not as simple as 1-2-3, but there are safety precautions that you can take in the event of a storm to prevent or minimize chemical leaks and safely remove hazardous wastes when the weather clears.
The
Related News:
---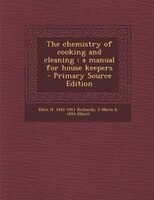 The chemistry of cooking and cleaning: a manual for house keepers – Primary Source Edition
List Price:
Price: